Want to find new riding friends & ride to a show like a boss ?
Then follow us on facebook ! >>>>
ADVANCE TICKETS

BEAT THE LINES BY PURCHASING ADVANCE TICKETS
Why buy advanced tickets ?
-Because its the only way to BEAT THE LINES and the huge response to last years event we expect record breaking crowds
-Advanced Ticket Holders are Entered into a Special Drawing to win Cash & Prizes such as T-Shirts,Swag & COLD HARD $$$CASH$$$ !!!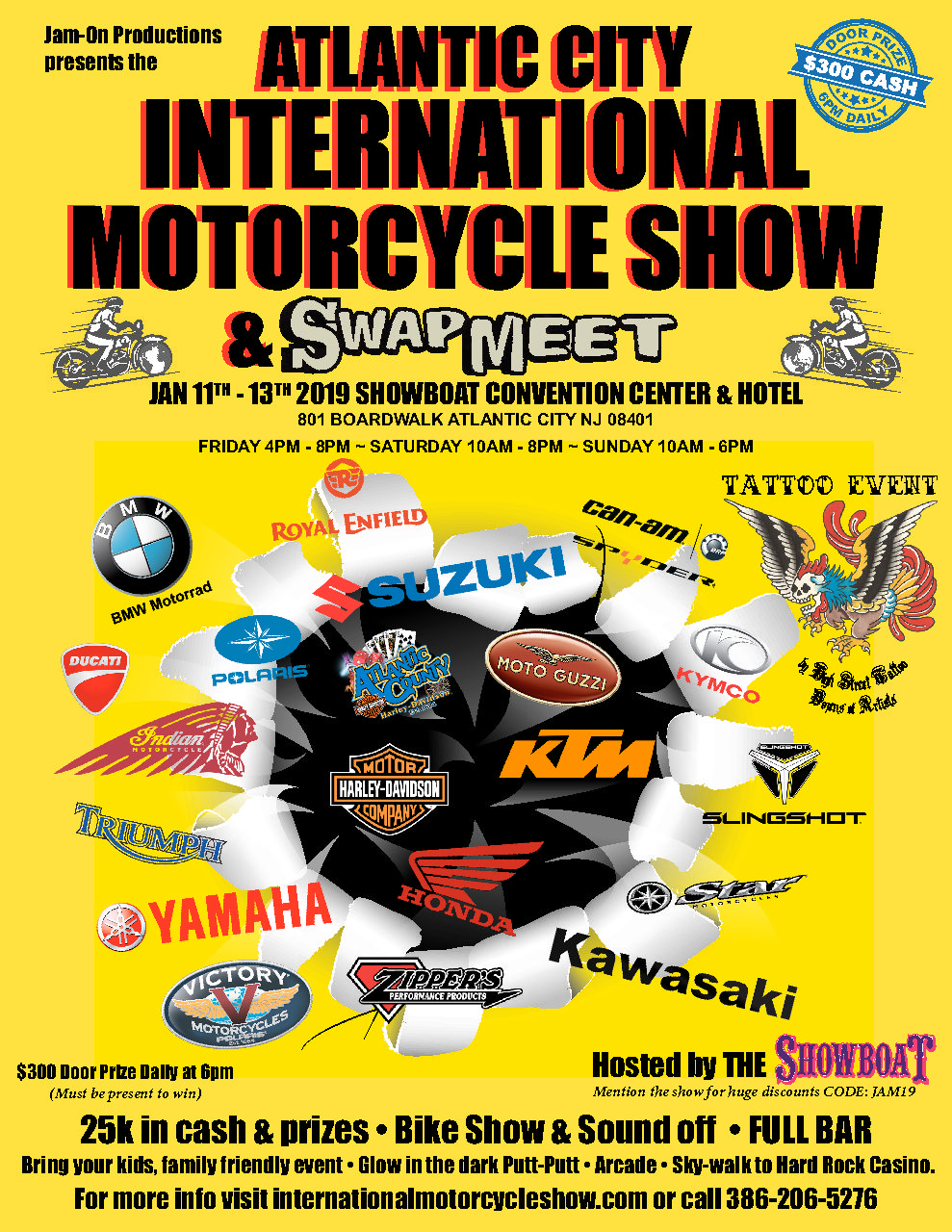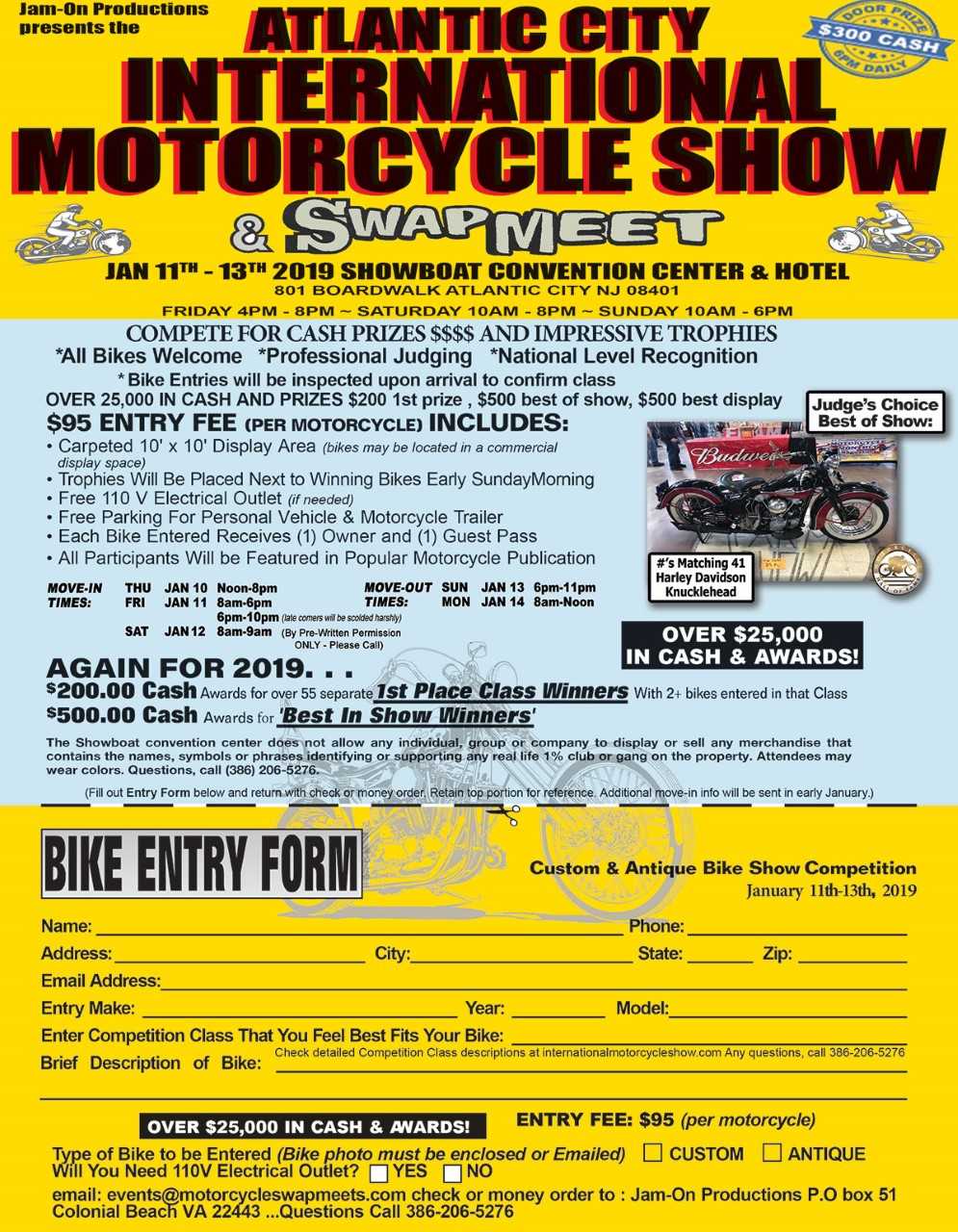 Greetings from Jam-On Productions
Jam-On Productions would like to thank each and every one of you for your support since 1973 ...we could not of made it this far without you !!!
The Atlantic City International Motorcycle Show will be held at the Showboat Convention Center & Hotel Jan 11th, 12th & 13th 2019 between the Hard Rock Cafe & Ocean View Casino and their Billion dollars of renovations .
The Atlantic City Show is one of the only Fully Carpeted and Draped shows in the country.
This year we welcome Zippers Performance and other Major sponsors. The show features new motorcycles, custom motorcycles, vintage machines a FULL BAR and vendors from all over the country marketing new and unique items (this is not a tshirt convention we do not let more then two of the same vendor in the building).
40'x120' private wing that is a Tattoo Event.
25,000 in cash and prizes to be awarded at the show including a
Special Guest National Top Fuel Dirt Drag Champion Racers for photo ops, signings and just to talk motorcycles with .
Would not be proper unless we include a SWAPMEET
After all Jam-On Productions is the producer of the Worlds Largest Motorcycle Swapmeet (SHAMELESS PLUG celebrating its 41st anniversary during Daytona Beach bikeweek)
We will be adding a Sound Off Competition offering cash prizes
***this event will be held to where if you don't want to hear it you don't have to hear it, we want everyone's experience to be enjoyable***
Abate of New Jersey has announced their acceptance of a free booth as Jam-On Production's CEO is a Founding Member of Abate of Maryland as well as a lifetime member of AMA and of the AMA Hall of Fame.
$300 cash door prize will be given on
Sat & Sun
WE DRAW TIL SOMEONE WALKS WITH THE MONEY
All our events are Family Friendly , with clowns face painters & kid amusements such as Glow in the Dark Putt Putt & an Arcade to keep your children entertained for hours.
Adult Friendly too with a FULL BAR.
Admission (cash only)
Adult $15
10-15 $5
under ten free
Active military and 1st responders $10 with I.D
Find $10 admission coupons available at local motorcycle shops
here is the website for more information and lodging on this Atlantic City show
http://internationalmotorcycleshow.com
Over 40 years in strictly motorcycle events by a true motorcyclist and being the FIRST promoter to ever present New, Custom, & Vintage Motorcycles of Every Brand in the same building with carpet and drapes this years show could not be in better hands.
WE WELCOME ANY & ALL MOTORCYCLISTS ...for the best interest in the continuance of this show we respectfully request if you have a bad attitude and can not get along with others please don't ruin the fun for everyone and just stay home.
Vendor info call 386-206-5276
Any questions or comments feel free to ask & remember to tell a friend cause if you cant come, bet you know two that can !!
Thank You Sincerely,
TJ
IMS Jam-On Productions