Want to find new riding friends & ride to a show like a boss ?
Then follow us on facebook ! >>>>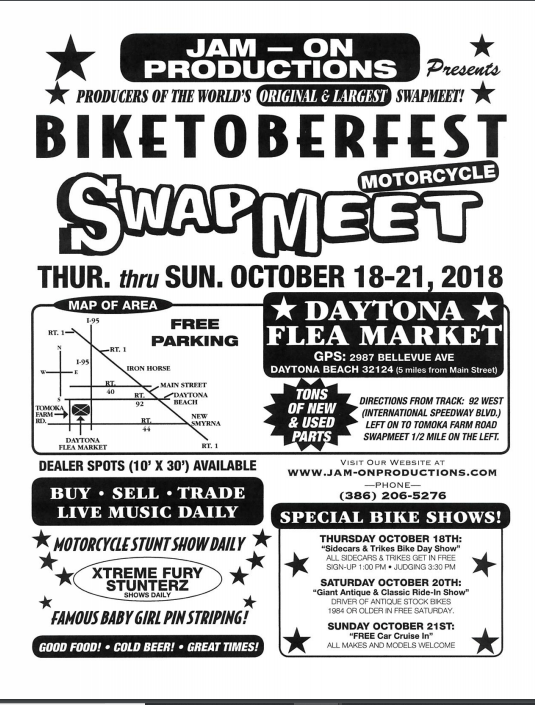 October 19th 2018 - October 21st 2018
Daytona Beach Florida
Jam-On Productions 26th Motorcycle Swapmeet and Bike Show During the 26th Annual Daytona Beach Biketoberfest
Everyone From Jam-On Productions Would like to give Our thanks for all your support over the last 26 years ...
WE COULD NOT OF MADE IT THIS FAR WITHOUT YOU !!!
help make the 26th Anniversary show the biggest and best yet,
Like, Share & Tell a Friend...if you cant come send two that can !!
Where : 1471 Tomoka Farms Rd Daytona Beach Fl 32124 (5 miles from main street)
Why: Looking for a hard to find cycle part ? Find it here !!
LITERALLY TONS & TONS OF NEW & USED PARTS at a fraction of new price..not only that but some of our vendors have never sold a single item on the internet
Have a garage full of motorcycle parts ? Sell it here $$$!! dealer spots (10x30 at $75-150 for all four days.. the most affordable spots during biketoberfest in all daytona) ...it is actually cheaper to vend and sleep in your spot then it is to stay somewhere else
Do you like cold Beer ? its here with plenty of like minded people to enjoy it with
Hate people who beat their grandma ? We do too !! so much in common
$300 door prize friday 5pm & sat 5pm ..can enter as early as thursday and is a free entry
Do you eat good food ? corn dogs to lobster rolls even home made ice cream you can watch as its made
Like listening to live music ? music played on and off daily
WALL OF DEATH FREE SHOW DAILY !!!
They ride their motorcycles inside a giant barrel risking their lives for your amusement !!!
DYNO TUNING by DR DYNO or KMC
Make sure your scoot is sounding right and dont have to hang your head at the red light
Special Guest PAUL PLUMMER Top Fuel Nationals Dirt Drag Champion available for autographs every day at the show !
numbers to call for vendor space or questions 386-206-5276
FREE Parking With Premium Bike Parking 
Tickets are Available at the gate (cash only)
purchase advance tickets online !! Why ?
its the only way to BEAT THE LINES and the huge response to last years event we expect a record breaking crowds
Feel Free To Tell A Friend !! =)
ADVANCE TICKETS

BEAT THE LINES BY PURCHASING ADVANCE TICKETS
Why buy advanced tickets ?
-Because its the only way to BEAT THE LINES and the huge response to last years event we expect record breaking crowds
-Advanced Ticket Holders are Entered into a Special Drawing to win Cash & Prizes such as T-Shirts,Swag & COLD HARD $$$CASH$$$ !!!